An Experience to Remember
Located in the heart of downtown Anchorage, Alaska's Hotel Captain Cook is a perfect basecamp for adventure, offering the best cultural, retail and natural highlights just steps from your door. In the mood to stay in? Indulge in one of our four distinctive restaurants, shop for gifts or unique souvenirs in our 12 shops or take in the views of neighboring Cook Inlet and the Chugach Mountains from any one of our 546 rooms and suites.
The Hotel Captain Cook is Alaska's only member of Preferred Hotels & Resorts Worldwide, an organization of 620 of the finest independently owned and managed luxury hotels and resorts across the world. Each property within the organization is required to maintain criteria to qualify for membership and excels at providing distinctive experiences that are far beyond the ordinary.
The Hotel Captain Cook was recently inducted into Historic Hotels of America, the official travel organization of the National Trust for Historic Preservation. The National Trust founded Historic Hotels with 35 charter members in 1989 for Historic Preservation. Since that time, only 315 hotels and resorts across America have been awarded this prestigious honor for preserving and maintaining their historic integrity, architecture and ambiance.
Boutique Shopping
Art Collection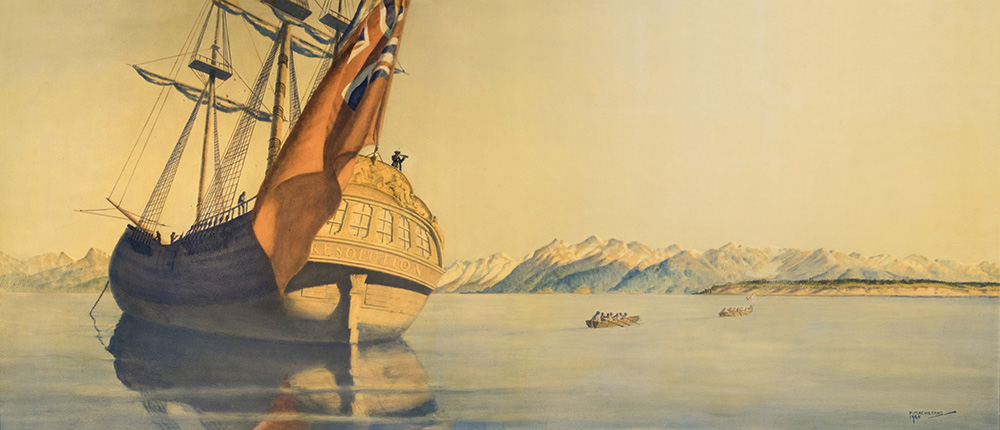 Tour the Hotel Captain Cook's private art collection and marvel at the adventures of Captain James Cook. Along with the hotel's architecture itself, stained glass, paintings, woodwork and sculpture tell his story. Contact our concierge to find out more about our walking tour.
Click here to view art gallery
---
Revel in Hotel History
Captain James Cook helped define Alaska in the 18th century by mapping its jagged coastline for the first time. Since 1965, the Hotel Captain Cook has defined luxury in Alaska by offering an unparalleled level of elegance and comfort. The legendary sea captain and the hotel that bears his name share two great qualities: a love of nature and an indomitable Alaskan spirit.
An Adventure of a Lifetime
Captain James Cook was a British explorer and cartographer whose three major voyages took him around the southern tips of Africa and South America, to Easter Island and, on his final voyage, along Alaska's majestic coastline. On these voyages, he and his crew documented the people, animals and flora and fauna that many had never seen before. In June of 1778, while looking for a Northwest Passage to Hudson Bay, he and his crew on the HMS Resolution dropped anchor in Turnagain Arm—within sight of the spot where the Hotel Captain Cook stands today.
The Hotel Captain Cook
More than fifty years ago, Walter J. Hickel, former governor of Alaska, invested in Anchorage's future by erecting the first tower of the Hotel Captain Cook. What was then a symbol of optimism and growth is now one of prosperity. His son, Walter J. Hickel Jr., grew up alongside the hotel, starting with the laundry room and the bell desk. As the hotel expanded, so did Hickel's responsibilities and his working knowledge of the hospitality industry. As president and CEO of Hickel Investment Company, he oversees its real estate division, including the Voyager Inn and the Hotel Captain Cook.